Microphone Type:

Dynamic

Polar Pattern:

Supercardioid

Frequency Response:

40Hz-18kHz

Output Impedance:

350 ohms

Color:

Dark Gray

Connector:

XLR

Dimensions:

5.2″ x 2.1″

Weight:

0.4 lbs.
Sennheiser Microphone
Iconic Guitar Amp Mic
You couldn't ask for a handier guitar amp microphone than the Sennheiser E609 Silver. Just like the classic MD 409, the e609 likes to be right up on the grille of your guitar cabinet, to the degree that you can just drape it over your amp and let it hang there in the right spot on your amp — no stand needed!
A natural 40Hz low-frequency cutoff prevents excessive boominess, and it's virtually impossible to overload the e609, so go ahead and crank it up. Other things to note are its clear sound, courtesy of a powerful neodymium magnet and hum-compensating coil.
Up close and personal
The e609 has a clear character of its own. Lows are tight and punchy without booming, the mids are rich, and the highs are present without sounding harsh.
Engineers here at Sweetwater and beyond agree that the best sound you'll get out of this mic is when you simply drape it over your amp and let them meet grille to grille. Combined with its tight supercardioid polar pattern, this close mic position makes the e609 virtually impervious to off-axis sound. No feedback or mic bleed here!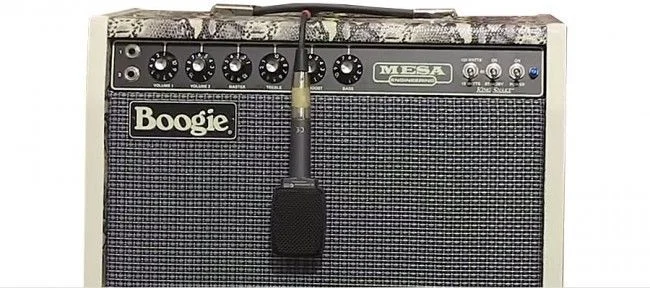 Sennheiser Silver Dynamic Mic Features:
Go-to dynamic guitar cab mic for engineers around the world
Just drape it over your amp and let the mic rest right on the grille
Delivers tight and punchy lows, rich mids, and present yet smooth highs
Absurdly high SPL handling makes it perfect for capturing dimed amps
Supercardioid polar pattern provides high off-axis sound rejection and minimal feedback