The AS50D delivers 50W acoustic studio-quality sound. Designed for an abundance of acoustic instruments, the AS50D can accommodate instruments with magnetic pickups, piezos and microphones – passive or condenser. It is the perfect amp for intimate acoustic gigs, no matter which instrument you are playing.
The amp is one of the best amplifiers in Kenya and is worth your money. The amplifier price in Kenya is affordable yet delivers great-quality output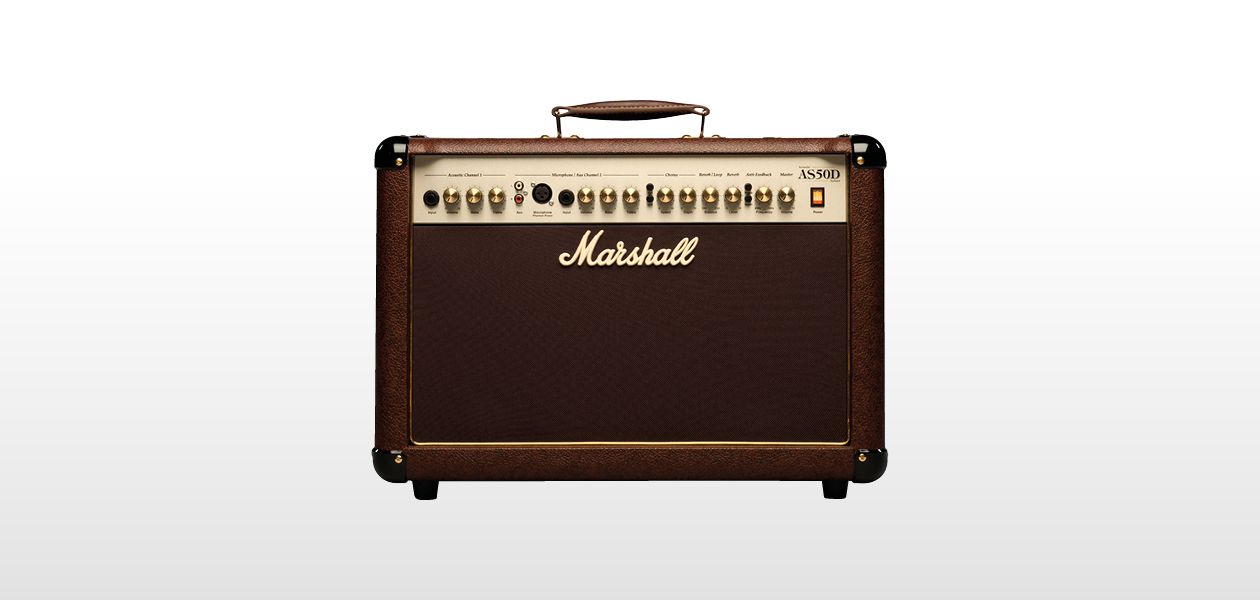 Marshall AS50D KEY FEATURES
Built to seamlessly support FX pedals, the AS50D allows you to design your own tone. Couple this with the amps' inbuilt digital FX, which can be assigned to either or both channels, and you can effortlessly create your perfect sound.
With two channels and multiple input features, the AS50D is an incredible multi-use amplifier. Channel 1 has a high impedance input that is perfect for piezo or magnetic pickups, whilst channel 2 boasts RCA phono inputs in addition to a phantom-powered XLR. This is not only perfect for both dynamic and condenser microphones, but also guitars, stringed instruments, and backing tracks. You can even use both channels at once whilst maintaining excellent sound quality.
We know our amps get used in all kinds of settings, from the bedroom to the venue and everywhere in between. That's why the AS50D features two specially designed 8" Celestion speakers and a high-fidelity tweeter to deliver high-clarity sounds no matter the location.
Keep it clear with the anti-feedback controls. Use the AS50D's phase switch and frequency-controllable notch filter to lock in to offending frequencies and eliminate feedback across all channels.
Marshall AS50D TECHNICAL SPECIFICATION
GENERAL
ELECTRONICS
Outputs
DI out, line out, effects loop
Inputs
2x instrument jacks, 1x Phono (Aux) In and 1x XLR, Footswitch
Controls
Acoustic channel 1 (volume, bass, treble), microphone/aux channel 2 (volume, bass, treble), chorus channel selection, chorus effect speed, chorus effect depth, reverb balance, reverb level, anti-feedback frequency sweep, volume
Effects loop
Yes, Send/Return
SPEAKERS
Speaker configuration
2×8″ plus tweeter
Speaker model
Custom speakers (8Ω)
ACCESSORIES
Footswitch
PEDL-91003 (sold separately)
Cable
Detachable power cable included
Dust cover
M-COVR-00025 (sold separately)
DIMENSIONS (INCLUDING FEET AND HANDLE)
The speaker offers quality Sound. If you are looking for Speakers with bass, this is your Speaker. The Speaker has the best bass speakers price in Kenya. The speakers' price in Kenya is affordable and worth every penny in comparison to what it brings to the table They are great church speakers. Order yours at affordable prices at our stores available in Nairobi Kenya