Numark mixtrack pro 3 dj controller
Here it is—the Amazing Mixtrack Pro 3 DJ controller.
From Numark the world's leading innovator of DJ equipment and technologies comes to the incredible MIXTRACK PRO 3 DJ controller, designed with the skilled, professionally-aspiring DJ in mind. It's the latest addition to the Numark family of industry-leading DJ solutions.
Numark mixtract pro 3 offers a whole host of features and performance that sets it way above conventional DJ controllers, yet it offers great bang-for-the-buck and it's a snap to take anywhere.
Put Real Power into Your Performance
The place is hot. The action is non-stop. You're the one in the driver's seat. We make sure you have the horsepower to get it done. Mixtrack Pro 3 will never let you down. We've kept everything you loved about the Mixtrack Pro 2, but now there's even more.
Numark mixtract pro 3 — we give you 100mm pitch sliders that make it easy to perform even the finest pitch adjustments, so it's easy to keep two cuts in perfect beat sync without any drift. Other people's 60mm pitch sliders can't come close to matching this performance. We make you look and sound great! 
Hot Metal (wheels, that is)
Get precise control over every track and every transition with Mixtrack Pro 3's advanced low-profile rugged metal platters. They are capacitive and dual-zone, giving you the ability to scratch or stop a track simply by touching the top of the platter, while at the same time allowing you to adjust the pitch by manipulating the platter from the side. Heavy-duty metal stands up to the hottest action, night after night.
No Limits on Your Creativity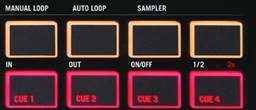 Dive into our 16 multi-function backlit performance pads and add loops, launch samples, and control hot cues to your performance. Use the multi-function touch strip for dynamic FX control and track search operation. There are dedicated filter knobs for each channel, to give you just the exact amount of tonal control you need for that perfect sound. If you can think it, Mixtrack Pro 3 will do it.
Numark mixtrack pro 3 dj controller
Dedicated filter knobs for each channel
Includes Serato DJ Intro"upgrade-ready for full Serato DJ
Includes Prime Loops remix tool kit
Multi-function Touch Strip for dynamic FX control and Track Search
16 multi-function performance pads
All-new high resolution metal jog wheels
Dual 5-inch hyper-responsive metal platters
Multiple FX manipulation
Dedicated track browsing controls from your library
Integrated class compliant audio interface with 14″ and 1/8 headphone connections