8-Input Digital Mixer with Bluetooth Audio and App Control, 60 mm Channel Faders, 2 FX Processors and USB/Audio Interface
Product Specs
Ultra-low noise, high headroom digital mixer with wireless remote control
FLOW App for Bluetooth remote control from iOS/Android mobile phones or tablets
60 mm channel faders and master rotary control with LED collar
EZ-GAIN function analyzes the signals in your application and automatically sets the gain for optimum headroom
Two Midas microphone preamps with 48 V phantom power and programmable gain
Two additional mic/line inputs on combo XLR/TRS jacks
Two pairs of balanced stereo line inputs, each featuring a Hi-Z jack for direct connection of guitar/bass
All channels with 4-band EQ and compressor, 2 FX and 2 monitor sends, while monitor and main buses feature 9-band EQ and limiter
Two independent studio-grade effects engines, each with 16 presets
Digital Mixing with Ease
Digital mixers offer studio-quality processing, the highest fidelity, the ability to recall all settings and even remote operation. Those are hugely attractive features, but they all come at a cost – with bigger physical size and more complex operations requiring at least some degree of technical audio education.
The millions of analogue small format mixers that Behringer has built over the years clearly tell us that there are many users who need a mixer that is compact, affordable, dependable and easy to operate.
Typical applications very often just need to balance the level of a handful of sources. So, why make things more complicated than they need to be? It is time for something genuinely new, providing modern features and workflows to everyone in a simple and compact form – it is time for FLOW 8 digital mixing.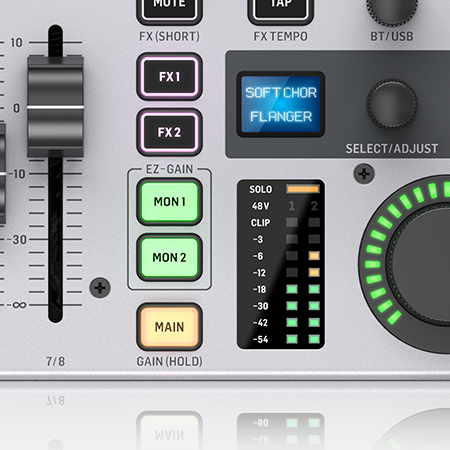 EZ-GAIN Assisted Gain Staging
Have you ever heard someone say, "you need to pay attention to your gain staging?" Do you know what the "gain structure" is about? When you are interested in clean and healthy signals, with low noise and low harmonic distortion then adjusting the right amount of preamp gain is paramount. It is defining the amount of amplification a signal gets when entering the mixer. Since source signals can be anything from a strong hit on the snare drum to the subtle hum of bees, there is not one gain that fits all possible purposes.
Gain staging
Gain staging is always a compromise and finding the right one requires either experience and technical knowledge, or the new FLOW 8 EZ-GAIN feature. The function can monitor signals on one or all channels at the same time, until you think the loudest sounds have been put to it. EZ-GAIN will then automatically adjust the channel gain to the optimum headroom.
EZ-GAIN
Oh, by the way, EZ-GAIN will automatically engage the 48 V phantom power on mic inputs 1 or 2 when no signal is detected, just in case you forgot to do that.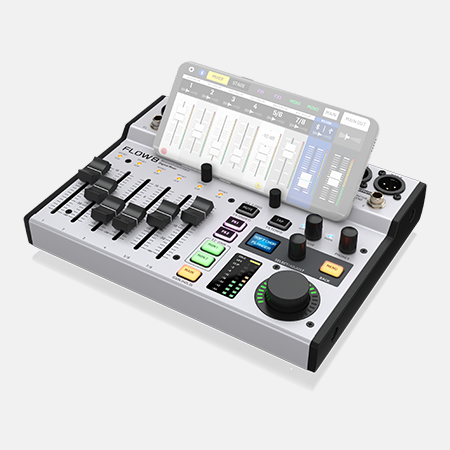 Full App Remote Control
Let's face it, small mixers are more often placed where cables end, rather than in a position where it would be most useful for controlling the mix. You may have to stretch out for controlling levels or walk away from the mixer to judge if your adjustment has the desired effect. No longer!
full remote control
FLOW 8 mixers offer full remote control from basically any Android or iOS device, giving you the freedom to go exactly where the sound is ideal for making any sort of adjustment. Tweak the 9-band EQ for the main PA speakers, set the compressor on the bass guitar or adjust the mix for the talents on stage.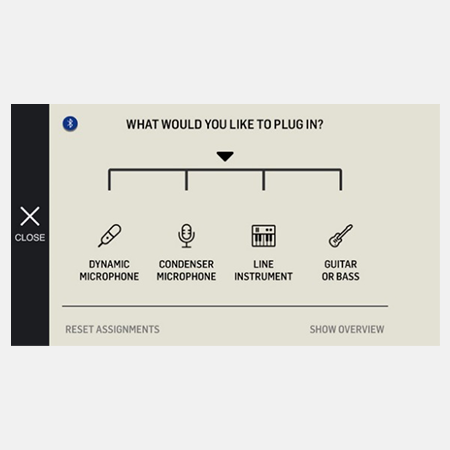 Assisted Setup for Beginners
Are you new to the world of audio and not sure which signal to put on different inputs? Don't know how to use the EQ or compressor for dedicated signals? No problem.
unique setup wizard
The FLOW 8 app provides you with a unique setup wizard that takes you step by step to make your music shine. After selecting the type of input, the assistant will offer you presets and tell you where to plug the cables in. Thanks to this innovative feature you can add your instruments and microphones no matter your skill level.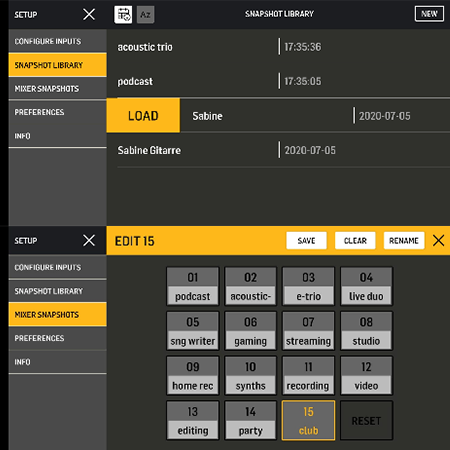 Total Recall of All Settings
Recording a podcast one day and some vocals the next? Are you mixing multiple artists on the same gig? FLOW 8 is your permanent companion for various audio applications where you need a perfectly tweaked preset available on your fingertips within seconds.
integrated snapshot library
The integrated snapshot library and the possibility to store unlimited snapshots per FLOW 8 app gives you instant, unlimited power. STORE, EDIT and LOAD mixer settings via the hardware or app instantaneously. You can even trigger snapshot loading with a connected footswitch to bring your performance to life.
recall scope
The FLOW Mix app even provides a recall scope to load FX, Channel, Main, Monitor or Routing-Options separately (requires firmware 11739 or above). While the hardware provides 15 internal storage-slots for snapshot presets, the app can store an unlimited library of snapshots sorted by name, date and time.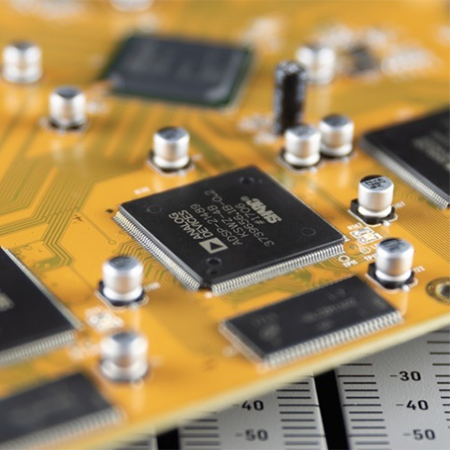 Outstanding Audio Quality (on the Go)
With two Midas microphone preamps and internal 32 VFP-Processing, FLOW 8 joins the X32, X-AIR and WING Series of digital mixing consoles. Even though the form factor and number of I/O is specifically tailored to smaller setups, each individual channel offers crystal clear audio and keeps up with its ancestors' sound quality.
4-band parametric EQ
All channels offer 4-band parametric EQ, and compression, as well as 2 FX and 2 monitor sends. All the monitor and main buses feature 9-band parametric EQ and a limiter for preventing unexpected volume peaks on your speakers.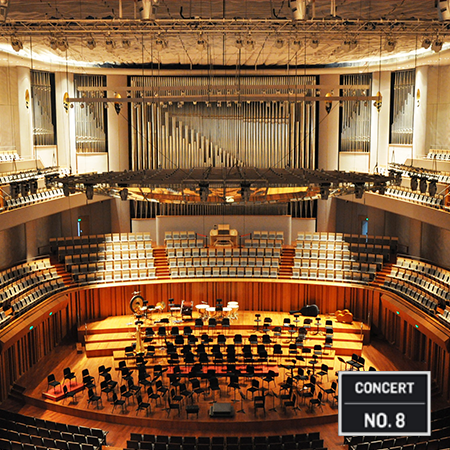 Looking for that Big Sound?
There is reverb and then there is REVERB. FLOW 8 features two independent studio-grade effects engines, each with 16 presets for refining your instruments and vocals with breathtaking effects sounds and depth.
12 Reverb programs span from a very short yet lively Ambience to very long and smooth Temple or Stadium simulations. All of them come in two flavors and their decay time can be adjusted continuously. In addition to that you will get various delay and modulation effects for all styles and applications.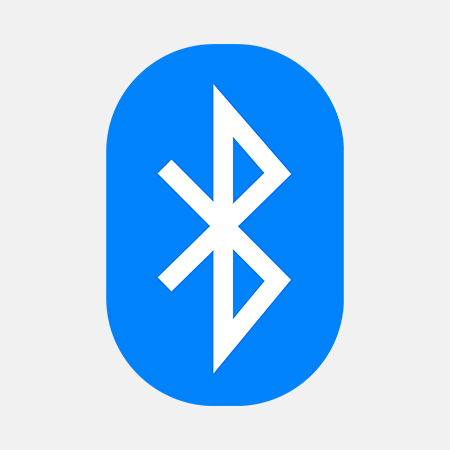 Built-in Bluetooth Streaming
Since compact loudspeakers are dominating the consumer market, Bluetooth has established itself as a standard for audio-connections in the consumer world. Mini-jack sockets are being replaced more and more and many smartphones and tablets require special adapters to output analogue audio signals. Therefore, FLOW 8 offers an integrated Bluetooth receiver, that enables you to comfortably play music in between performances without annoying adapters and the need of being close to the mixing console all the time.
The BT audio connection for playing audio back can be connected independently from the FLOW 8 remote application. While using BT Audio for playback on one mobile device, BT LE can be used separately on another device for the control application, if you wish.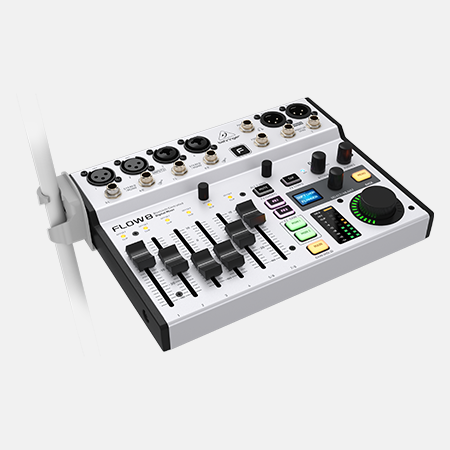 FLOW 8 CLAMP Option – Simple and Solid
The optional FLOW 8 CLAMP is based on the original TC Helicon PERFORM Series side cap design, which uses a special material that combines extreme longevity and a dependable, firm connection with the mic stand. It consists of a metal bracket that is screwed to the mixer and a proprietary plastic part that clips on to the mic-stand without any screws. You can choose to mount the clamp to the bracket in 3 angles (0°, 15°, 30°) depending on your preferred mixer orientation.
The FLOW 8 CLAMP is designed to bring your FLOW 8 mixer within reach during your performance. On stage for a small club gig or in a recording setup, the best place will often be right at your microphone stand. It avoids unnecessary cable clutter and keeps the control surface of your FLOW 8 mixer permanently accessible. The clamp is designed for standard 5/8" microphone stands diameter (not exceeding 16.5 mm).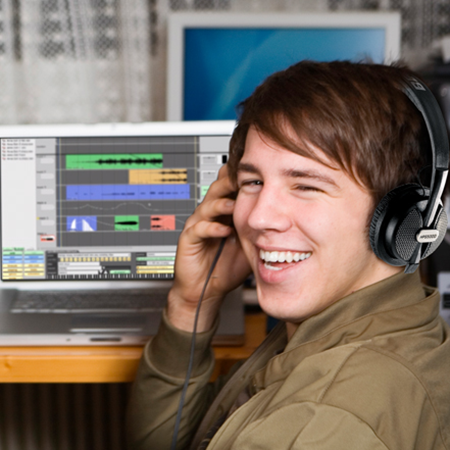 USB Multi-Channel Interface
The internal USB interface offers separate modes for streaming and recording applications, providing up to 10 recording tracks and 4 playback channels. Either the main mix or all input signals can be streamed or recorded individually. This makes FLOW 8 the ideal partner for DAW home recording with zero-latency monitoring, streaming and podcasting. No additional USB audio interface required. All Input signals and the Main stereo mix can be sent to audio applications on a Mac-, Windows- or Linux-based system for recording, editing or streaming.
Whether you're a singer, songwriter, small ensemble, teacher or presenter, gamer, podcaster or video blogger, producing at home or playing live in bars, café houses or in the streets, when practicing or performing… FLOW 8 will ensure impeccable audio quality and help you create amazing sound with ease.
Best of all – FLOW 8 Digital Mixers are available in our partner stores around the globe as of today!
the professional Digital mixer that emphasizes quality, audio performance, and easy-to-understand, uncluttered control surface
mixers price
For sale in Kenya at affordable prices. Order yours at drumbeatssounds now.
mixers dj
The mixers dj is the go-to for the ultimate Music mix. It is an all-in-one powered mixer that packs a high-performance mixer, power amplifiers, graphic equalizers, and digital effects unit into a compact, portable console-style unit. It's rack-mountable for easy portability and is suited for many uses. 
mixers audio
The audio mixer's price is very affordable and worth the purchase compared to what it offers