Ampeg Micro Series Amps deliver the same commitment to beautifully burnished, round sound as the SVT®, just in a much smaller package. They make an ideal recording or small-to-medium-gig solution for bass players that favour rich fundamental and track-ready tones. While their distinctive good looks make them an instant conversation piece, their beauty is more than skin deep. Whether you opt for the vintage-style Micro-VR or the more contemporarily appointed Micro-CL, you're getting a pro-level amp with all the key features needed to get any job done—from studio to stage.
---
MICRO-VR STACK
While the Micro-VR may look cute, I don't think it isn't a serious tone machine. Ampeg engineers used the burly SVT-VR as their design touchstone, and the result is every bit as capable as its larger sibling, only smaller. The head offers 200 watts of MOSFET power into a 4-ohm load—its ideal partner is the SVT-210AV cabinet, a hardy 2×10 with the same sealed Infinite Baffle design as the classic SVT 8×10 cab. The rig offers an authoritative, fundamental-rich tone ideal for small gigs, rehearsals, apartment living, and bleed-sensitive recording situations. And while its tone might be its most alluring feature; its traditional look makes it a lust-worthy collectable sure to start a conversation wherever it lives.
MICRO-VR HEAD
200 Watts
Solid-state preamp
MOSFET power amp
Balanced XLR output
Headphone out, Aux in
Switching power supply
9.9 lb (4.5 kg)
SVT-210AV CABINET
2×10 Eminence® Custom Designed (sealed cabinet)
200 Watts
8 Ohms
15mm Poplar-ply construction
25.9 lb (11.7 kg)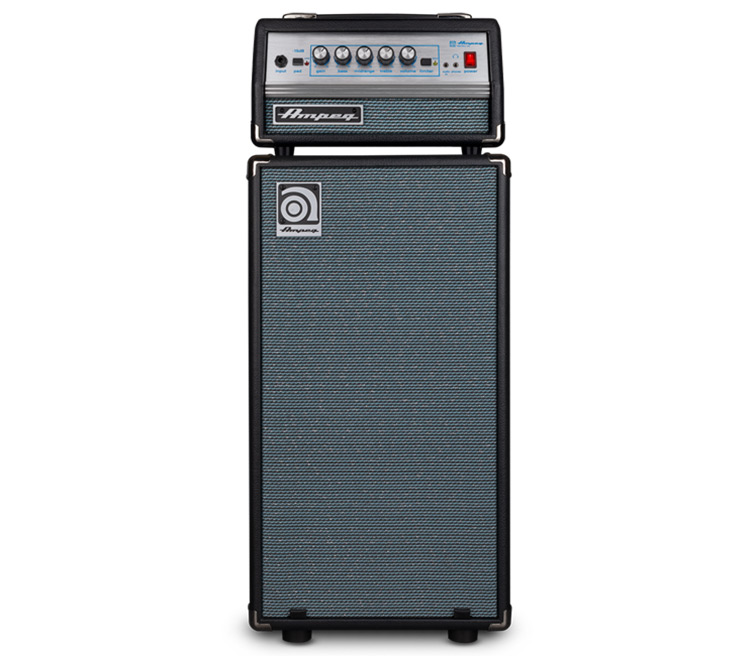 MICRO-CL STACK
Ampeg's SVT-CL is the do-it-all workhorse for the working professional. Yet, many working pros spend much of their time in rehearsals, at home practising, and at small-to-medium café and club gigs. For those players—most of us, let's be honest—the Micro-CL stack offers the same traditional tone and sonic flexibility as its larger sibling, but in a durable, portable size. Whether you're just beginning your Ampeg journey or are a dyed-in-the-wool fan that wants an Ampeg rig for every situation, the Micro-CL could be just the ticket.
MICRO-CL HEAD
100 Watts
Solid-state preamp
Solid-state power amp
Headphone out, Aux-in
3-Band EQ
¼" Unbalanced line out
13.8 lb (6.3 kg)
MC-210E CABINET
Available only as a package with the Micro-CL
2×10 LF drivers
100 Watts
8 Ohms
33.2 lb (15.1 kg)
Product Description
Ampeg BA108v2 Combo Bass Amplifier
BA Series Bass Combos – Classic Tone. Modern Flexibility. Rugged Portability. BA-108 8 inch Bass Combo – Small Combo. Big Tone.
Ampeg BA-108 8 inches Bass Combo
The Ampeg BA-108 Bass Combo delivers classic Ampeg tone with features designed to get the most out of practice. This is an amp that is built for small spaces. It's perfect for bedrooms or to take with you on the go. With front-facing controls, 60° monitoring angle, auxiliary inputs and a headphone jack for silent practice, the BA-108 is the perfect amp to keep you practicing.
Classic Ampeg Tone
Ampeg is known for its classic tone and the new BA series is no exception. Each amp offers legacy Ampeg preamps and tone stack circuits for an extensive choice of classic Ampeg tone. BA series amps feature perfectly matched Ampeg Custom speakers, designed specifically to get the most out of your BA combo.
Modern Flexibility
The new BA Bass Combos feature an all-new cabinet design with a true 60° sound reinforcement monitor angle which provides an increase in clarity. This flexible design directs sound directly at your ears even in small spaces. Front-facing controls make adjustments quick and easy in both the upright and wedge position. Players can easily transition from a true monitor angle for added clarity or a traditional upright position for added bass response.
Rugged Portability
Featuring a protective all-steel amp chassis, impact-resistant metal corners and rugged embraced enclosures, BA Series Bass Combos are designed for the long haul. Created for performance and portability, these amps are ready to go wherever you do.
Features
20 watts RMS Power
8-inch Ampeg Custom8 speaker
Legacy Ampeg preamp with 3-band EQ
True 60° sound reinforcement monitor angle
Aux input for playing along with a smartphone or iPod
Headphone output for silent practice
28.0 lbs / 12.7kg
The Ampeg Bass Combo speaker offers quality Sound. If you are looking for Speakers with bass, this is your Speaker. The Speaker has the best bass speakers price in Kenya. The bass speakers' price in Kenya is affordable and worth every penny in comparison to what it brings to the table They are great church speakers. Order yours at affordable prices at our stores available in Nairobi Kenya
The guitar power amp is one of the best amplifiers in Kenya and is worth your money. The power amplifier price in Kenya is affordable yet delivers great quality output